Winner in the Juried 4 September 2009 Showcase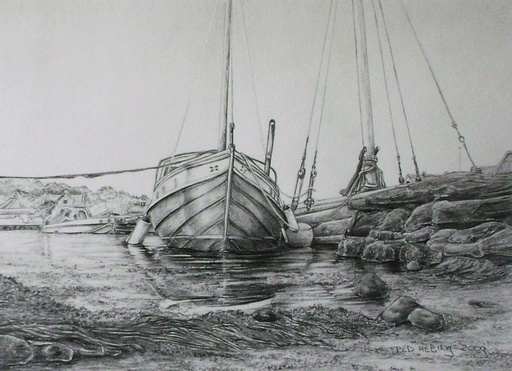 Begin september heb ik de tekening "Tananger haven" uit het project "Noors licht" ingeschreven in de art show van ARTslanT. De nr 1 contemporary art network.
Tot mijn grote verassing kreeg ik de volgende mail van het ARTslanT Curatorial Team;
Dear Mr Hebing:
Congratulations! You have been selected as a Showcase Winner in the Juried 4 September 2009 Showcase!
The ArtSlant Curatorial Team is very pleased to welcome you into our special group of winning artists. Showcase Winners have been designated as promising artists by our team of professional art watchers.
SHOWCASE WINNERS PREMIUM PLACEMENT
Your winning work will move into the Showcase Winners premium placement program. As you selected the one-month option, you will be able to hold your seat in the premium placement program for our Showcase Winners for the month of September-October. Should you wish at that time to extend your placement, please email ben@artslant.com for instructions.
HOMEPAGE SPOTLIGHT
Your winning work will be randomly exhibited in our spotlight showbox on our Homepage. This new exhibition space has been developed specifically for our Showcase Winners. Look for your work on our homepage next to the Big Black museum and openings box.
GALLERY PANEL JUDGING
Each Showcase winner will go before our Gallery Panel for review and judging over the next week. Our gallerists will select the top Juried Winners, who will be eligible for the Golden Frame competition which will be held in March 2010.
CHECK OUT THESE OTHER AWARDS
The ArtSlant Award Ribbon will adorn your winning image on your Profile page; anyone visiting your profile will see your award.
You will be presented to the ArtSlant community of art professonals, gallerists, artists and collectors in our awards announcement.
You will now appear in the Artists All Winners pages.
Again, take a deep breath. You've worked hard for this honor!
Best regards,
The ArtSlant Curatorial Team
Zie blog voor originele email.